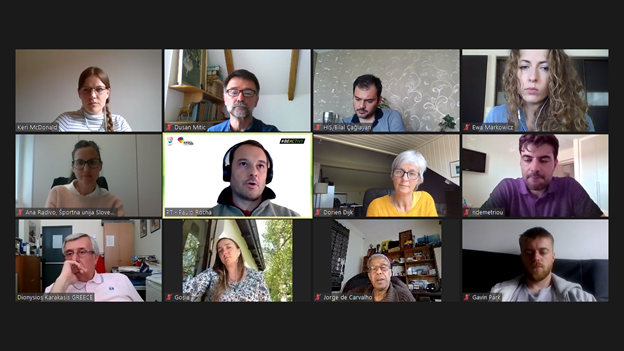 On Wednesday 12 May, TAFISA hosted the sixth Europe in Action virtual project partner meeting which brought together all nine partners to discuss the progress of the project so far and map out the next steps. This is a pivotal moment for the project as it enters its half-way point of its three year funding.
The project partners are in the process of developing 13 non-formal Educational Modules in accordance with the key priority themes identified in the first work stages of the project. The Educational Modules are being developed to empower grassroots sport employees and volunteers by providing them with practical knowledge to better succeed at promoting HEPA and Sport for All in their own settings across Europe. The modules will not only fill in a gap which exists in terms of non-formal education but also educate sport leaders and support local, national and international sport organisations in the implementation of programmes and events.
The project partners are preparing to pilot the Modules through regional seminars, 'Active Meetings'. The Active Meetings will bring together participants from various EU regions, member states, professional environments and sectors – specifically targeting stakeholders from various levels and areas of focus to foster the creation of cross-sectorial cooperation and alliances in European and national Sport for All policy delivery. Each Active Meeting will provide a learning-centric environment and offer participants an opportunity to network, share their knowledge and experience, learn from good practices and discuss topical issues relevant to the European grassroots sport Movement.
The project is also finalising the completion of five regional reports that looked to summarise the national policies, local deliverables and good practices pertaining to the five geographical regions in Europe (North, East, South, West, Balkans & Turkey). This activity has provided a clear understanding of the transfer of policy to practice across Europe as well as an overview of grassroots sports programmes and events per region.
Europe in Action is happy to announce its inclusion at the TAFISA World Sport for All Games that will take place virtually between 18-24 of June this year.
The Europe in Action project is at an exciting stage with various phases nearing completion alongside its imminent inclusion at the 7th TAFISA World Sport for All Games. Even with the ongoing COVID-19 pandemic, the project partners are fully committed to the continuation of all Europe in Action activities, including meeting virtual until international travel is permitted and safe to do so. The next project partner meeting is scheduled for July 2021.